Product Name:Alumina Dispersed Copper Alloy Welding Head
Description:This product is suitable for spot welding nickel strips, nickel-impregnated steel sheets and plated steel strips in battery production.
Features
l The softening temperature is up to 930°C, which is relatively high in copper alloys.
l Electrical conductivity up to 85% IACS, thermal performance between tungsten copper (220 W/m.k) and pure copper (390 W/m-k).
l Hardness in excess of HRB84, high strength, good fatigue and wear resistance.
Advantages
1. Can avoid the occurrence of sticky electrode phenomenon
2. Welding parts will not become yellow with perfect solder joints
3. Avoid the phenomenon of virtual welding
4. Completely eradicate the phenomenon of welding sparks
5. Superior electrical and thermal conductivity
6. High temperature performance
7. Anti-softening, anti-ablation
8. More times of spot welds, electrode life is more than 5 times of ordinary chrome zirconium copper
9. Reduced downtime for electrode resharpening and increased efficiency of automatic welding lines
10. Welding of coated copper and aluminium without bonding the electrode provide a terminal solution for the welding of galvanised steel
11. Indispensable electrode material for welding galvanised steel, nickel-plated sheet, nickel strip, aluminium alloy, stainless steel, brass, etc.
Performance
Items

MPa

Tensile strength MPa

HRB

Hardness HRB

mm/m

Straightness mm/m

ICAS%

Conductivity ICAS %

Index

≥450

≥75

≤0.4




≥75



The performance of dispersion-reinforced copper is derived from the addition of alumina. The size of the alumina particles is only 3 to 12 nanometres and the particle spacing is about 50 to 100 nanometres, which is thermally stable*, even at temperatures close to the melting point of copper. as well as hardness and strength are well maintained.
Size
Diameter 3 mm, 6 mm, 8 mm, 10 mm, 12 mm, 16 mm and etc.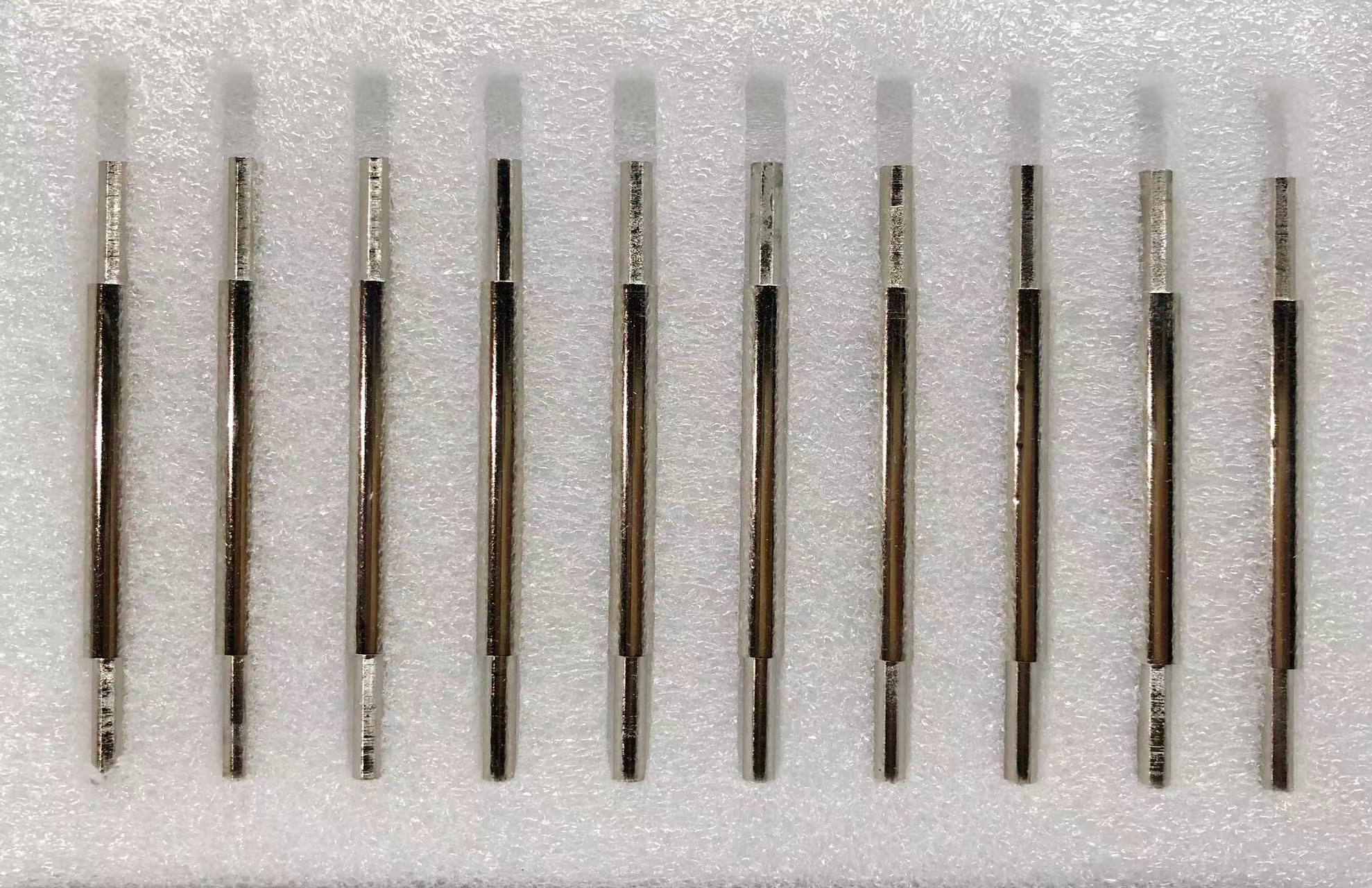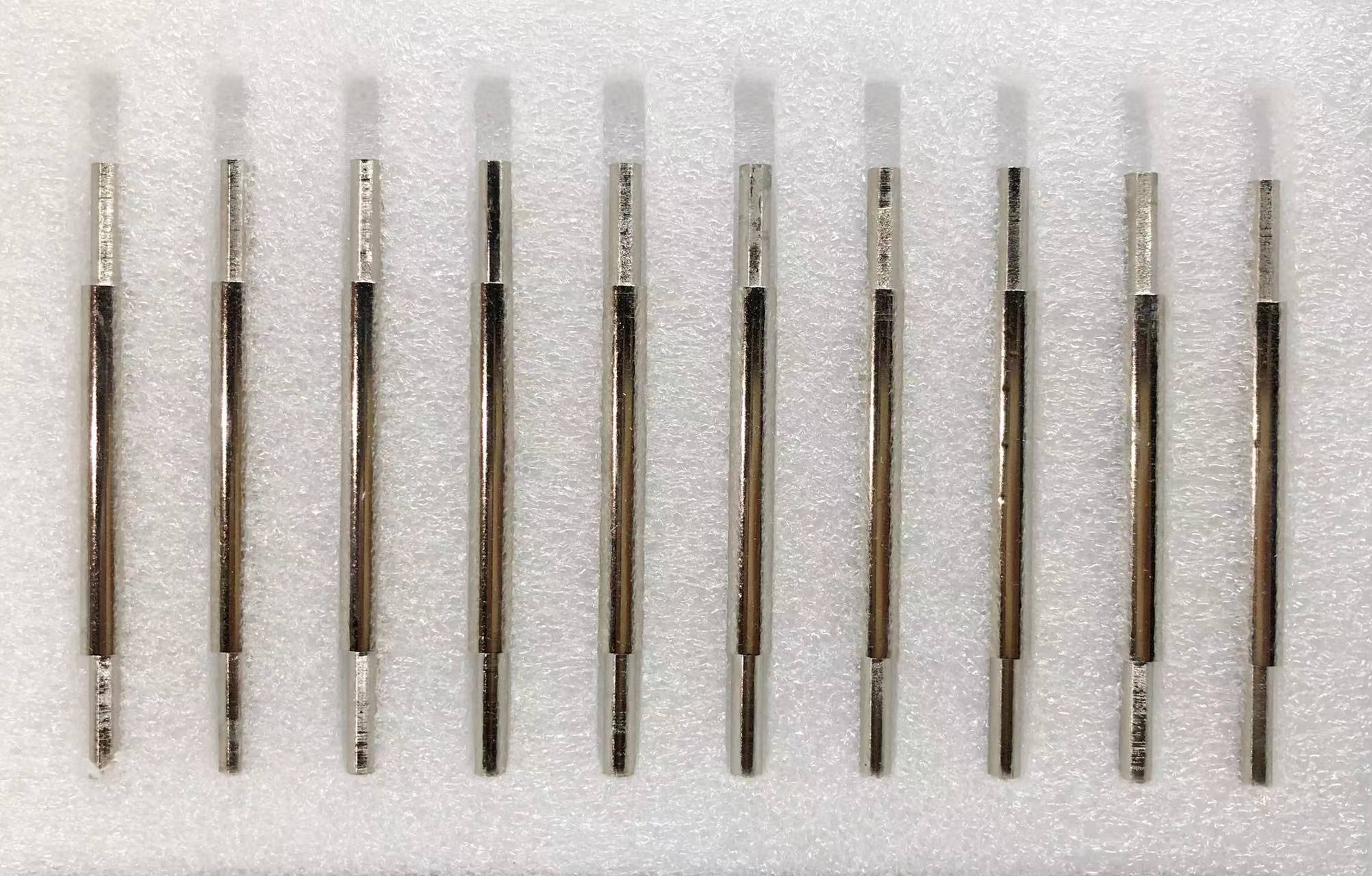 ******************************************************************************************************************************************************
Below is Product Specifications in Chinese
(以下为产品中文介绍)
产品名称:弥散铜合金点焊头
产品描述:本产品适用于电池生产中点焊镍带、渗镍钢片、镀层钢带等。可避免粘电极现象发生,具有焊接部位不发黄、焊点美观、避免虚焊现象产生、杜绝焊接火花的现象产生、优越的导电性以及导热性能、良好的高温性能、符合SGS环保标准要求等优点。
产品特点
l 软化温度高达930℃,是铜合金中比较高的
l 导电率高达85%IACS,散热性能介于钨铜(220 W/m.k) 以及纯铜(390 W/m-k)之间
l 硬度超过HRB84,强度高,疲劳性能和耐磨性能好
产品优点
l 抗软化、耐烧蚀,使用寿命长。
l 点焊次数高,电极寿命是普通铬锆铜的5倍以上
l 减少了停工修磨电极的时间,提高了自动焊接生产线的效率
l 焊接镀层铜铝时不粘结电极,为镀锌钢板的焊接提供了终端的解决方案
l 是焊接镀锌钢板、镀镍板、镍带、铝合金、不锈钢、黄铜等不可或缺的电极材料
性能
| | | | | |
| --- | --- | --- | --- | --- |
| | 抗拉强度MPa | 硬度HRB | 直线度mm/m | 电导率ICAS% |
| 指标 | ≥450 | ≥75 | ≤0.4 | ≥75 |
弥散强化铜的性能来源于加入的氧化铝。氧化铝颗粒的尺寸仅为3~12纳米,颗粒间距约为50~100纳米,其热稳定性*好,甚至在接近铜熔点的温度下仍然能保持去原来的粒度和颗粒间距;弥散相的加入量只占基体*小的体积分数,几乎不影响基体铜铝固有的物理化学性质;因此,其软化温度高达930℃,同时导电和导热以及硬度和强度都能保持得很好。
产品规格
直径3mm、6mm、8mm、10mm、12mm、16mm等